International Students Visit
A number of students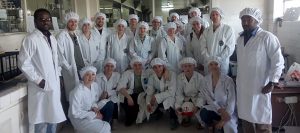 of the Geisenheim University from Germany, mainly from Wine Institute, visited Awash Wines to gain an impression of the work with the production process.
An exciting excursion shows them the local Winery and production process. During the factory tour afterwards, the students get an overview about the company working culture, product process, among others.
We hope that we could offer an informative day and wish furthermore great success with their studies.