Farm and Vineyard
Awash Wine owns 517 hectares of farmland located in the Oromia region, Arsi Zone, Merti wereda, in the Rift Valley along the Awash river, 180 km from Addis Ababa.
Since 2013, Awash Wine expanded the size of its vineyard from 87 hectares to 225 hectares. Being mindful of the scarcity of the water resources, all the expansion is equipped with drip irrigation technology allowing optimized water efficiency.
Terroir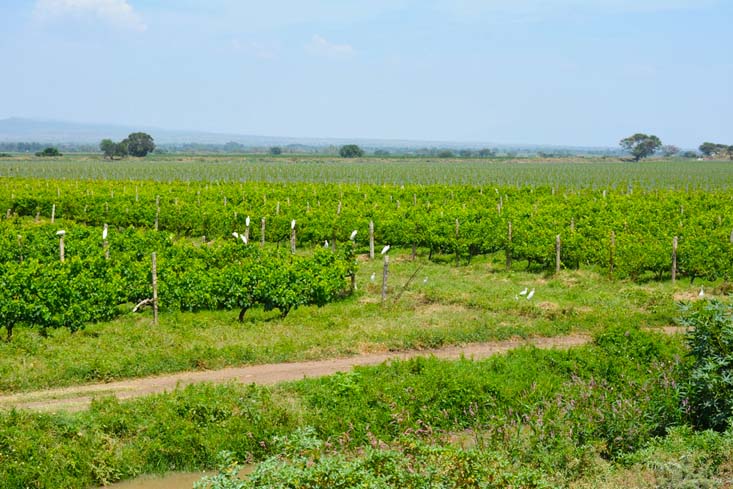 The vineyard is characterized by a sub-tropical arid climate with small rains from middle of January to end of February and a main rainy season with high precipitation (which can exceed 40 mm in 2 hours). The hottest month is May with temperature over 36°C during the day.
Situated approximately 80 north of the equator, this terroir, has its head in the clouds, a climate comparable to the Mediterranean climate. The abundance of sun allows the grapes to ripen generously. The freshness of the nights is favorable to anthocyanins (red color) and promotes the presence of organic acids necessary for the balance of a red wine.
What is unique about our vineyard is that we harvest twice a year, from December to January and June to July. The vineyard yields around 20 tons/ha with two-third of the annual yield from the first harvest.
Awash Wine Vineyard is unique. At an elevation of 1600m, the oxygen scarcity and the sun proximity have a positive impact on the canopy and the berry enrichment. The lack of the oxygen strengthens the vine canopy, and the sun is the major driver for the sugar production in the grapes. The vines draw their resources directly from the volcanic soil which brings a typical minerality, which creates a freshness and a nice acidity in the wines. This singular soil, formed from accumulation of fertile eruption debris since millennia, is also conducive for the winemaking of wines with floral and fruity notes. The combination of such an elevation and this distinctive soil gives Awash Wines all their great finesse.