Staffs Visited Dashen, Habesha Breweries
Awash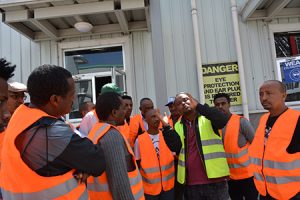 Staff members made a visit to one of the manufacturing plants of Dashen Brewery Share Company and the recently established Habesha Brewery SC at Debrebirihan town on 7th and 8th November 2017.
During the visit, experts of both companies provided the staffs an opportunity to obtain hands-on experience relating to the operations handled in a beer production plant. Further the experts of the factories explained the key stages of the beer production process paying special attention to the quality and safety management measures and quality assurance measures used in the process.
This was a novel experience for several of the staff members as that was the first time ever that they had visited a beer manufacturing plant.